Sharpen Your Spidey Senses: Situational Awareness for Seniors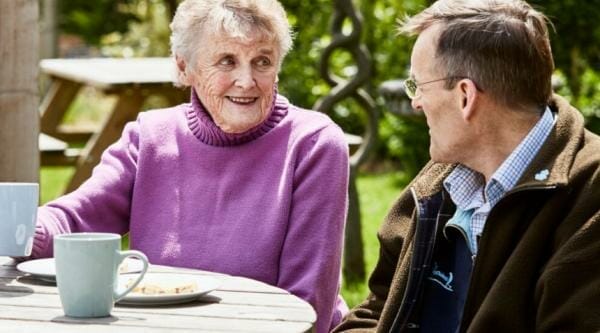 By: Camila Cal, SeniorLivingGuide.com
In recent years, the genre of true crime has risen in popularity as seen by the number of podcasts, movies, documentaries, and more available around the world. Many people nowadays are fascinated with stories of real people experiencing real crime.
And while the genre might not be everyone's cup of tea, there are a lot of insights that we can glean from hearing these stories that will help us protect ourselves if faced with dangerous situations. Unfortunately, this is especially important for seniors because violence against the elderly has surged in the last few years and may continue to increase.
Seniors may tend to be more trustworthy with strangers because perhaps they feel lonely and want to engage in conversation or they grew up in a time-period where it was safer to chat with and trust everyone in the community. Whatever the case may be, it doesn't mean that seniors can't socialize or be kind to strangers, but it does mean that they must practice having an increased situational awareness.
On the SeniorLivingGuide.com Podcast, we are joined by Jen Lee with the "I Need Blue Podcast," and she shares her story as a victim and survivor of a crime.  Her experience with crime informs the way she lives her everyday life, and she shares some of those tips with listeners.
Don't share too much information in public.
As a rule of thumb, don't ever mention that you live alone or that you will be home alone for a period of time, etc. If you're chatting aloud at the grocery store to someone you trust, there's no way to know if someone with bad intentions could be listening in on your conversation. Consider this advice when sharing on social media as well.
Along the same lines, don't be ashamed to make up a story for safety reasons! If you live independently and feel unsafe or uncomfortable, say "my husband is home" or "my son is home," anything to dissuade others from thinking that you could be a target.
Put your phone in your pocket!
One of the best ways to stay aware of your surroundings is to quite literally be present in the moment. If you're walking in the parking lot, keep your phone in your pocket so that you can be as aware as possible of the space around you. Lee said that what's great about these tips is that seniors can help their loved ones (such as children or grandchildren that may be more focused on their cellphones) by passing this advice on to them.
If it's possible, go out as a group.
It's always safer (and fun!) to be with friends or community members when out in public. Another option (if applicable) for seniors to ask their homecare providers to accompany them to run errands
Stay in-tune with your "spidey senses."
Like Spiderman, always question when something doesn't seem right. Lee explained that she learned that we are allowed to tell someone "You're making me uncomfortable right now" without feeling mean or rude. We do not have to open the door or engage in a conversation if we feel even a little bit unsafe or afraid.
Remember: It's better to be safe than sorry!
Look out for each other.
Watch out for others. If you suspect anything unusual is going on whether at the grocery store or elsewhere, keep an eye out to make sure everyone remains safe. Asking someone if they are okay, informing security, or just generally sticking around can make a world of difference.
Being aware and helping others stay aware of their surroundings can keep everybody remain happy, healthy, and most importantly – safe.
To hear more tips, listen to the full SeniorLivingGuide.com Podcast episode, Paying Attention to Your "Spidey" Senses.  and make sure to check out Jen Lee's podcast "I Need Blue."
For more senior and caregiver resource podcasts, visit SeniorLivingGuide.com Podcasts or they can be found most anywhere you enjoy music or podcasts such as Spotify, Apple Podcasts, Podchaser, and more!