Eating Disorders for Seniors: When to Coach Yourself and When to Seek Help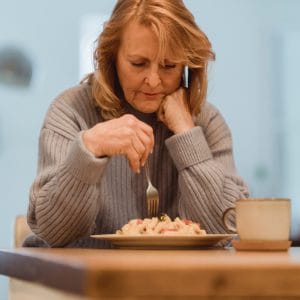 By Anica Oaks
Eating disorders are a complex topic that can be challenging to understand, especially for seniors. There are many different aspects to eating disorders including food, body image, and hormones that all contribute to the disorder.
Common attributes related to eating disorders
Eating disorders are most commonly found in women and teenagers but can affect people of any age. Most people think that dieting is the cause of an eating disorder but in reality, it is a far more complex issue. Eating disorders are often a result of a combination of factors. Dieting, genetics, and the culture surrounding eating have been identified as three main contributors to an eating disorder. Through social media and television, we are constantly influenced by how society views food & weight.
If you have an eating disorder, then you have two options: coach yourself out of it or get professional help.
Common signs you may need professional help
Having an eating disorder is a battle that many people go through. It is a struggle that people can endure for years if they do not seek help. An eating disorder treatment program can provide the necessary support and help for the recovery process.
It's important to seek professional help from a qualified professional who understands the specific needs of people struggling with an eating disorder. Seeking help for an eating disorder is probably the best course of action because you will not have to figure the reasons for your disorder, try to come up with a behavior modification plan for yourself, and struggle with exerting your willpower to maintain a healthy lifestyle.
Common ways to coach yourself

The best way to coach yourself is to read a book about how to overcome an eating disorder. Self-coaching is a great way to help yourself break free of an eating disorder if you still have some self-control and are not overcome by your addictions. Reading books by professionals in the field will give you plenty of information and the tools you need to succeed.

A book on overcoming eating disorders will discuss the various types of eating disorders: anorexia nervosa, bulimia nervosa, binge-eating disorder, and eating disorders not otherwise specified (EDNOS). It will also include information on what triggers people with eating disorders and how they cope with their condition as well as information on the physical effects of eating disorders. Finally, it will include plenty of guidelines you can try.

Eating disorders are common, but they can be difficult to identify. There are many signs and symptoms that can help you determine if you are struggling with an eating disorder, such as restricted food intake, prolonged weight loss, irregular eating patterns, changes in appetite and weight, binge-eating, or purging behaviors. While self-coaching is an option, your chances of overcoming an eating disorder are better with professional help.

Tags: eating disorders