Park of the Palms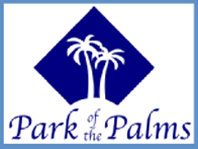 A Florida Christian Community Where Residents Come First
204 Maranatha Rd, Keystone Heights, FL 32656
Park of the Palms, Inc. is a Christian Retirement Community in the heart of North Central Florida. Our twenty five acre campus offers Independent Living and Assisted Living. We also offer Adult Day Service and Respite Care. Our goal is to glorify God by providing loving, compassionate care for our residents and by being good stewards of the gifts He has provided us with. We are thankful every day to be able to serve Him by serving the residents He has entrusted to us. Every decision that is made ultimately comes back to the question "is that best for our residents?"
The Park is governed by a Board of Directors made up of a group of Godly men with expertise in a wide variety of areas. They have proven themselves to be committed to the success of the Park and the care of the residents.
The staff at Park of the Palms go above and beyond to make sure our residents' needs are met.
Our location allows for an easy commute to Gainesville, Jacksonville and St. Augustine.
If you want to live in a neighborhood where you know your neighbors and they are kind and friendly, you've come to the right place! If you are seeking a place where you can walk through the grounds and be able to enjoy God's creations abundantly but not feel like you have totally left civilization, you've found it. Park of the Palms is a place where peace and tranquility abound, a place where retirement living is waiting for you.
Bedrooms
One or Two Bedroom Units
Meals
3
Types of Services
55 Plus Living
Assisted Living
Independent Living
Features
Those preferring an active lifestyle can utilize the peaceful settings of our walking paths, heated pool for healthy exercise, shuffleboard for stretching, or our fitness and therapy center to keep fit.
There are a variety of affordable housing options to choose from, ranging from standard one bedroom apartments to deluxe two bedroom units.
Park of the Palms, Inc. is a 501(c)(3) nonprofit corporation established to provide seniors 62 years of age and older with either permanent or temporary residence for independent or assisted living.
Heated Pool, fitness center and more!
At Park of the Palms, Inc. we pride ourselves on fostering a community of friendliness, respect and wellbeing, a place where people of Christian faith and values share their later years in comfort and community.
Property Managers
Are you the manager of Park of the Palms? If so, you can claim this listing below.
Claim This Listing
You May Also Be Interested In
203 S Moody Rd, Palatka, FL 32177
1949 E West Pkwy, Fleming Island, FL 32003
Park of the Palms
Keystone Heights, FL