Brookdale Tramway Ridge
Exceptional Senior Living
4910 Tramway Ridge, Albuquerque, NM 87111
Brookdale Tramway Ridge located in Albuquereque, NM offers Personalized Assisted Living and Alzheimer's and Dementia Care services for seniors.
With a scenic view of the city of Albuquerque and a wonderful Sandia Mountain location, Brookdale Tramway Ridge provides a beautiful setting for offering Personalized Assisted Living and Alzheimer's and Dementia Care services for seniors. But the real beauty of the community is on the inside, where we provide care, a congenial and friendly environment and an opportunity for our residents to live an Optimum Life®.
Our care plans our built to provide exactly the care you need, and none that you don't. If you need a little help with daily tasks like dressing, mobility, managing medications, and many more, you'll probably be interested in our assisted living program. With our assisted living plans, you'll receive a comprehensive needs assessment before you move in here. Then, if your needs ever change, your care plan can, too.
Our memory care program provides exceptional Alzheimer's and dementia care in a setting that often feels more like a resort than a senior living community. We were one of the pioneers of dedicated memory care over 25 years ago, and we've never stopped perfecting our programs. Our residents receive a predictable, stable environment built to gently steer them through their days, providing daily moments of joy.
Types of Services
Assisted Living
Memory Care
Features
Service fees based on need
Delivering quality service and care to each individual
Regular review of service plans to meet residents' changing needs
Trained staff to assist with activities of daily living, 24/7
Private or companion suites complete with full bath and a choice of floor plans
Property Managers
Are you the manager of Brookdale Tramway Ridge? If so, you can claim this listing below.
Claim This Listing
You May Also Be Interested In
1620 Indian School Road, NE, Albuquerque, NM 87102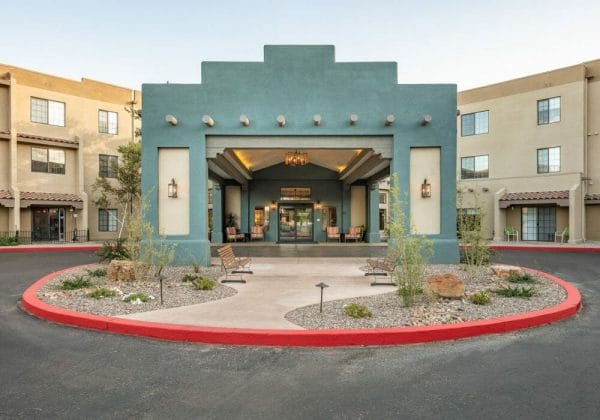 920 Riverview Drive SE, Rio Rancho, NM 87124
Brookdale Tramway Ridge
Albuquerque, NM