Barringer Gardens

Affordable Senior Housing
2741 Dr. Carver Road, Charlotte, NC 28208
Barringer Gardens is a three-story, HUD 202 apartment community specifically designed for older adults who are at least 62 years of age. There are 47 one-bedroom units and a two-bedroom manager's unit. Four of the units are designed to benefit the mobility impaired with one of those units also being equipped for those who are hearing and/or visually impaired.
Each unit has one bedroom, a bathroom, a living/dining area, and a kitchen with a pass-through counter, refrigerator, range, and vent. The mobility impaired, accessible units have roll-in showers for ease of access for those residents in wheelchairs. They also have appropriate appliances, counters, and sinks, and a turning radius to meet the special needs of the mobility impaired.
Greeting residents and visitors at the front of the community is a porte-cochere providing coverage from inclement weather when entering and exiting the community. The lobby entry into Barringer Gardens offers a friendly environment for the residents to welcome guests. Adjacent is a comfortable sitting area where residents can visit around a cheery fireplace. Barringer Gardens features a community room with a party kitchen to be used by the residents for a variety of social, educational, and recreational activities. Immediately off the community room is a covered patio area with patio tables and chairs for outdoor entertaining and barbecues.
Management offices are located at the entry of the first floor for ease in communication for the residents. There is a secured key-fob entry for residents and an intercom system for guests to be allowed entry into the community. The community also affords additional security via a monitored security camera system. The lobby also includes the residents' mailboxes and two elevators. In order to encourage residents to exercise, there are stairways conveniently located on either side of the corridors to use instead of the elevators. Each floor includes a trash room with a trash chutes.
Some of the many other features of the community include an arts and crafts room, an exercise room to encourage physical activities regardless of the time of year, a library and computer room with a screened in porch and comfortable chairs and tables, and a third floor sitting area to encourage residents to sit and visit with one another.
Barringer Gardens is RHF's first community in North Carolina.
Features
Emergency Call System
Full Kitchens
Carpeting/Hardwood Flooring
Fitness Room
Computer Room/Library
Property Managers
Are you the manager of Barringer Gardens? If so, you can claim this listing below.
Claim This Listing
You May Also Be Interested In
5840 Dixie River Road, Charlotte, NC 28278
Starting at $1100.00 per month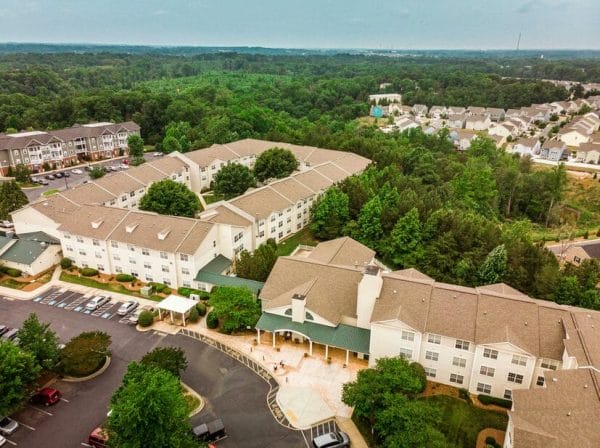 12920 Dorman Rd, Pineville, NC 28134
2010 McKee Road, Matthews, NC 28105
$189,000 Entrance Deposit
Barringer Gardens
Charlotte, NC