At-Home Care: How to Go Above and Beyond
By: Camila Cal, SeniorLivingGuide.com
When the time comes to provide senior care for family members, it's extremely important to be aware of all the options. Assisted living and nursing care is not for everyone – some seniors would prefer to receive care in the comfort of their own home. However, a home service can be difficult to coordinate, and it is often the family members that must juggle working jobs and taking care of a loved one.
It's a difficult situation, but fortunately, there is good news! 
On SeniorLivingGuide.com Podcast, Beyond the Bedside: Staying Home After a Dementia Diagnosis, we are accompanied by Janetta Clayton, a registered nurse with over 15 years of varied experience providing care to patients in every age group from infancy to geriatrics. She is also the founder of Beyond the Bedside, a Consumer-Directed Service Facilitation provider for individuals enrolled in the Virginia Medicaid Waiver program.
What does that mean exactly?
This service provides an alternative way individuals can receive home care services in which consumers have more control over who provides their care and how it is provided.
Clayton's father was diagnosed with vascular dementia in 2009, at 55 years old. As his dementia progressed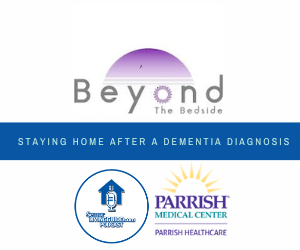 over the years, her father emphasized that he wanted at-home care, rather than moving to a nursing home. Clayton stressed the importance of having these conversations with your loved ones early on, no matter how difficult they may be, so that their wishes are respected when it's time to make decisions on their behalf.

He received consumer-directed personal care, which meant that select family members were compensated financially to provide care, while another family member served as the employer. This service allowed his caretakers to take quality care of their loved one, while also maintaining a reliable income.

Beyond the Bedside was created after Clayton's father's passing, when she reflected on her family's journey navigating the healthcare system and realized that she wanted to support other families that desired to provide at-home care for their loved ones. From her own experience, she knew that the care a nurse provides extends beyond the bedside!

One important home care service is the Consumer-Directed Personal Care Assistance Program (CDPAP), a national Medicaid program that aims to provide medical assistance to low-income individuals and those with disabilities. Federal and state governments jointly fund and administer the Medicaid program. The Center for Medicare & Medicaid Services (CMS) administers the Medicaid program at a federal level, and each state administers its program in accordance with a CMS-approved state plan.

According to Clayton, all 50 states and Washington, D.C., have at least one consumer-directed long-term services and support (LTSS) option because these programs are an increasingly popular option for older adults with disabilities. Popularity rapidly grew due to the COVID-19 pandemic when the demand for at-home care skyrocketed.

So, what are the benefits?

Participating in a CDPAP program allows consumers to have more control over their care, from who is providing the care to how it is being provided. Clayton explained that rather than assigning a home care or agency that controls training, scheduling, etc., the consumer (family member, friend, or guardian) directs all aspects of their loved one's care. These services are intended to assist beneficiaries with activities involved in daily living, such as meal preparation, light housekeeping, or bathing, essentially tasks that will allow the beneficiary to continue living in a quality home.

Eligible individuals are typically those eligible for services provided by a home health agency, a long-term home health care (waiver) program, AIDS home care program, or personal care/home attendant. If the individual does not have Medicaid, they can apply through their local Department of Social Services (DSS). If the individual does have Medicaid, they can contact their local DSS and request an evaluation for long-term care services.

Informing her clients of the options available for seniors is Clayton's passion. She encourages others to research consumer-directed care programs (Tip: Google "consumer-directed personal care services near me") and to never stop being an advocate for themselves and their families.

To learn more about Beyond the Bedside, visit BeyondTheBedsideVa.com or listen to the full SeniorLivingGuide.com Podcast episode.

For more senior and caregiver resource podcasts, visit SeniorLivingGuide.com Podcasts or they can be found most anywhere you enjoy music or podcasts such as Spotify, Apple Podcasts, Podchaser, and more!

Tags: Aging in Place, Dementia, Home Care, Medicaid, Medicare